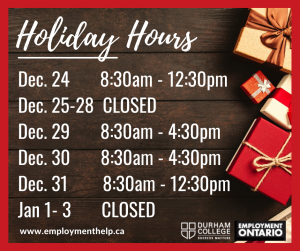 We will be closed to in person visits, but will be available virtually this holiday season. Please call your nearest Employment Services centre to book an appointment for January, 2022. Our holiday hours are:
December 24th 8:30am-12:30pm
December 27th CLOSED
December 28th CLOSED
December 29th 8:30am-4:30pm
December 30th 8:30am-4:30pm
December 31st 8:30am-12:30pm
January 3rd, 2022 CLOSED
Happy Holidays!